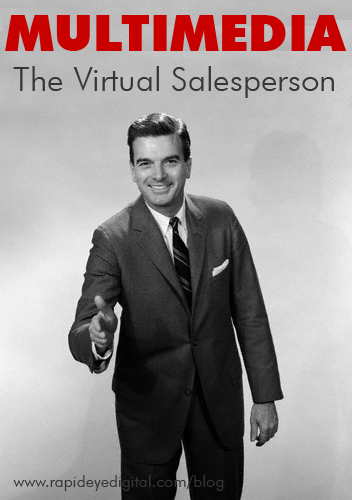 While nothing can replace the interactivity achievable with a person to person sales pitch, there are many occasions where pitching your product or service to your customers must continue without the aid of a physical salesperson. Multimedia can help. Through video and interactive applications, you can drive awareness, educate and answer questions, and excite your customer base.
In my college days, I helped develop the Palm Retail Stores that promoted and sold Palm PDA and smartphone products. What made these stores unique is that they allowed customers to fully experience each device before they purchased. A fully-functional model of each device was displayed on cafe-like tables for customers to hold, navigate, and explore. During this time period, many had never held a PDA, much less been able to play with one. While there, I took this experience one step further. I found that there were often too many customers for the limited sales staff to get to everyone. Many people would stop by, touch a few keys, then walk away. So a coworker and I developed videos and interactive presentations that played on the screens of the devices. The videos either told more about the features of the products or showed off vibrant imagery and animations to simply catch the eye of those walking by. This resulted in more people stopping to play with the devices and each spending longer at the store. In many cases, it prompted the customers to ask questions. It got them thinking…"hmm how could I use this device for my needs".
Applications
This approach holds true across many applications. Tradeshows are an excellent opportunity to let multimedia do the selling for you. Traffic at tradeshows is sporadic and there are often not enough salespeople to speak to everyone who might be a potential customer. The goal, once again, is to keep the potential customer at your booth longer. This allows them to take in more information, inspire ideas or questions, and give your sales people more time to get to them. When your sales person does reach them, the customer is likely more educated and fueled with ideas for your product or service. There are many options for multimedia at tradeshows. Showcase video or animated demos of your products, introduce your team or tell their story, have interactive applications that center on your product or relate to the show as a whole.
Your Website is another good place to let multimedia play a virtual salesperson role. Here again, there is an opportunity to promote your product and educate your customers without ever haven physically spoken to them. Again, the time your customer spends on your site can only be a positive thing. Keep them there by engaging them in quality multimedia presentations. Don't bore people on your social media sites. Upload videos and interesting photos that let your fans and customers get to know more about your company. Create interactive experiences on your homepage that give your visitors something fun to do – perhaps link them to a game centered on your products or services. Multimedia can help your customers LIKE your company and generally feel good about doing business with you.
Ben Young
Partner
Rapid Eye Digital
www.rapideyedigital.com
www.rapideyedigital.com/blog